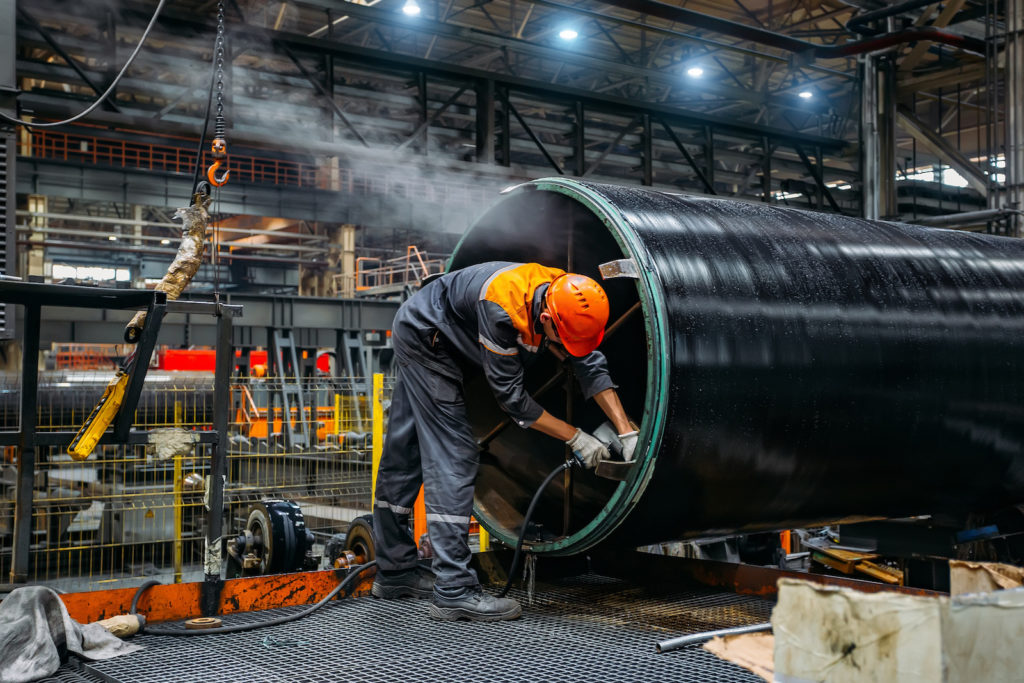 In any industrial setting, anything that is functioning or performing under high pressure is prone to cause serious damage if not working properly. Anything that is pressurized means that it is operating under very specific circumstances and requires every component to do its part. From industrial boilers to other pressure vessels, to your typical pressure washer or water tanks, the importance of maintaining and keeping these vessels secure is absolutely essential.  As certified inspectors of pressure vessels, we understand the necessity for quality upkeep and maintenance of these vessels. 
What is a Pressure Vessel?
To those that work in the industry, a pressure vessel is an everyday occurrence and necessity.  For others, it might sound very exotic but really it refers to any vessel that is operating under high pressures. Most pressure vessels are for industrial use like hot water storage tanks and dividing cylinders.  They can also be used to hold toxic and other non-toxic liquids. For this reason, these are carefully fabricated enclosed containers. They are primarily designed to hold gasses or liquids at high pressures or varying pressures.
These vessels serve a variety of purposes in industrial settings, factories, or installations. Because of the inherent dangers present in anything that involves contained and pressurized gas or liquids, there are stringent regulations and safety protocols that must be met. 
The most common shapes for pressure vessels include:
How are Pressure Vessels Made? 
Because of the high pressure, they must withstand, these vessels will typically be fabricated out of different types of steel. Many will use carbon steel and stainless steel. When fabricating a cylindrical vessel, for example, different steel parts must be welded together to form the shape and ensure safety.
Subpar welding can lead to the compromise of quality, which means that precautions are necessary to ensure the parts are correct and properly installed. Only certain kinds of steel are appropriate for certain parts, as per regulations. Engineering standards require that only steel with high impact resistance should be used for pressure vessels. 
The bodies that establish these fabrication codes include ASME safety guidelines and the National Board of Boiler & Pressure Vessel Inspectors in the U.S. and the EU Pressure Equipment Directive in Europe. Other regulations around the fabrication of these vessels include the use of a load-bearing liner that helps withstand the pressure load. These will typically be composed of metal, ceramic, or polymer. 
What Happens When a Pressure Vessel Loses Integrity or is Cracked? 
If a vessel becomes cracked or damaged it can lead to rupture or leakage. None of these is good news. The potential health hazards that come with either of the above are serious and include poisonings, suffocations, fires, and even explosions. If the energy in the vessel expands and puts added pressure that the vessel is not able to withstand, it is a recipe for disaster.
What is an Industrial Pressure Vessel Inspection? 
Faulty pressure vessels lead to catastrophic consequences. This is why various governmental bodies have stepped in to ensure that there are frequent inspections that maintain the performance and integrity of these vessels. 
The inspection process will look at:
How well the vessels meet established industry standards

The vessel while empty and in operation

Several kinds of pressure tests will be conducted 
As mentioned above there are several ways that a pressure vessel can be inspected. The inspection must happen by someone that is certified through the Board. They might conduct a:
Internal inspection: This type of careful examination of the vessel happens when it is empty and not in operation. This inspection is used to identify internal damage, corrosion, worn-out components, etc. The welded seams will be looked at carefully, as well as other areas near welds and fittings. 
External inspection: This is a type of inspection that is done while the vessel is operational. External inspections are conducted on the outside of the vessel. These are important to catch malfunctioning external components like the piping, connections, and more. 
How Often are These Pressure Vessels Inspected? 
This might vary depending on the particular use for that vessel.  Pressure vessels that house toxic liquids, for example, will need more frequent inspections. Preventative maintenance is the best way to ensure successful inspections and avoid fines, loss time of operation, damage, and —most importantly— accidents and malfunctions. 
Get a Trusted Technician for Your Industrial Needs 
When it comes to industrial pressure vessels and other components, the consequences of malfunction or bad quality can be major. Here at Wyler Industrial, we have been providing quality services for generations. As a family-owned company, we have passed on our knowledge and understanding of the industry as we have grown and settled in the El Paso area. All of our technicians are certified and carefully trained. 
Need a pressure vessel inspection, maintenance, or service? Call Wyler Industrial today.