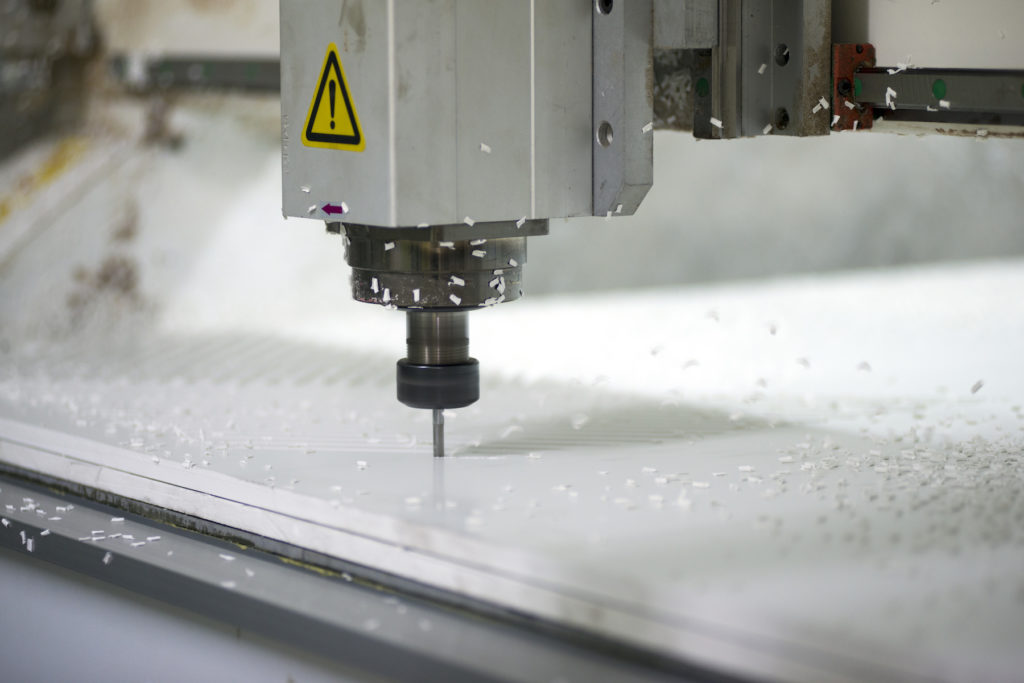 Machining is a broad topic and mostly refers to the process of converting raw materials into finished parts. Many times, it requires removing a piece of material in order to change its shape, size, and function and convert it into a part that will form part of a larger structure like an airplane, vehicle, machine, equipment, etc.  A person who performs this job is typically called a machinist. They are highly-skilled tradesmen that know how to operate machines with a high level of efficiency and they work in machine shops. Wyler Industrial provides machining services for many industries as well, so let's look more closely at what that entails. 
The Role of the Modern Machinist
The role of the machinist has evolved over time. Today, a machinist operates CNC, or Computer Numerically Controlled, machine tools. These are used to create very specific parts for machines, instruments, aircraft, etc. 
A machinist's job is very important in manufacturing, as the work that is done in a machine shop will determine the performance of the end-product. The parts that a machinist develops will take their rightful place as an important component of another structure. In order to operate CNC machines, the operator needs to be familiar with the codes, have a solid background in math, and a foundational understanding of the basic concepts of machining. 
In manufacturing and production, a machinist is called upon when a client needs a part to be cut. Machinists will be proficient in working with a variety of metal materials including aluminum, brass, copper, and various alloys. 
Machining can be broken down into three major categories or processes:
Turning
A machinist that specializes in turning is responsible for manufacturing parts in various sizes and working with modern machine tools. Turning requires defining machine data and making necessary corrections or fixes. Turning uses a cutting tool, as a tool bit.
Milling
The process of milling utilizes rotary cutters to remove material. The machinist advances the cutter through the material to cut the material piece. A milling machine looks like a complicated contraption from the early Industrial age, although its workings are far more sophisticated. 
Drilling
When it comes to drilling, a machinist is an expert workman operating heavy-duty drills and making precise drill holes in workpieces. Larger components require drilling to ensure holes are in the right place. 
Typical Machinist Tools:
Machinists use a wide array of tools. They are often used alone or in conjunction with other tools at various steps of the manufacturing process. The major tools include:
Boring tools
Boring is a holemaking operation in the machinist's tool box, so to speak. Single-edged boring bars will have only one point of contact with the workpiece. 
Cutting tools
This category includes tools such as saws and shears. The cutting tools are used to cut pieces of material that are carefully measured and require a specific shape or size. 
Drilling tools
Any tool with a rotating axis used to penetrate material and create holes or for driving fasteners like screws into the material. 
Turning tools
:
These include tools like lathes; they rotate workpieces on their axis. 
A Closer Look at CNC Machining
Computer numerical control machining is a technique used in conjunction with other techniques to precisely cut and produce parts from raw materials. Today's CNC machines are highly sophisticated and can perform complicated cuts with little to no error margins. The machine is programmed and uses software that is very specific to the task at hand. The history of these machines goes all the way back to the dawn of industrialization. 
As computers and automation become more and more advanced, the technology improves the quality of the work. The earliest Numerical Control machines were built in the 1940s and 50s.  The early versions actually consisted of punching tape and feeding it into a basic machine. The machine was not fully automated and would often have large margins of error. 
Machinists will work for various industries including aviation, automotive, and manufacturing needs. An aircraft machinist is a necessary part of the industry and is not always given the credit they deserve. 
During World War II, machinists and what were called "machinist mates" were indispensable to the war effort. It was these people that ensured the construction of what was then rather experimental aircraft with many moving components and a need to be sturdy as heck. 
Many machinist mates positions were actually open to women during this time and many made their mark on the industry. As military operations became more and more dependent on airpower, the role of the machinist was central to the basic components of the machine. Modern machinists require a variety of skills including deep proficiency working with machine and machine parts, knowledge of CNC, and a deep understanding of hand tools. The job is also physically demanding and requires a lot of problem-solving. 
Make Wyler Industrial Your Go-To Machine Shop!
Wyler Industrial machine shop includes high-grade machining services. If your business operates in an industrial setting, you likely require quality parts made of metal. We are happy to service machines as well. Our trained machinists will help you get your issues sorted out. Connect with a machine shop and find quality industrial services in the southwest.