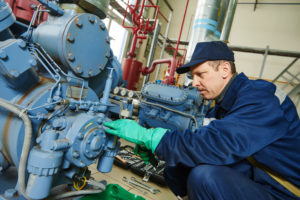 Without machines, our entire world would come to a screeching halt. Machines brought us to where we are today and they will continue to assist us in reaching the apex of future society. As useful and necessary as machines are, they also face many risks and often require maintenance and repairs in order to work as efficiently as possible. There's a reason why people often use the allegory of well-oiled machines to describe a team that's working to the best of everyone's abilities. Similarly enough, a faulty machine can cause any industry's efficiency to plummet. If you're seeking mechanical repair services in El Paso, then Wyler Industrial can help.
No Matter What Your Machines Need, We'll Be Able to Help
There's nothing funny about machine maintenance. Issues tend to sprout up at the most inopportune times, when a certain task needs to be completed yesterday and the clock is running out. Then, out of nowhere, the machine simply gives out. If you've found yourself in this situation, you know just how stressful it can be. Now, if only there was some way to take care of the issue as quickly as possible in order to get back on track, without wasting any more time than need be. Thankfully, there is a way to continue moving forward without worrying about these unexpected issues. This is where Wyler Industrial's mechanical repair shop comes into play. 
Overcoming Every Obstacle 
Although machinery has evolved throughout the decades, it's still as important as it was today as in the past. In fact, reliable machines are more important today than ever before. Countless individuals and companies rely on the industrial factories that call the El Paso area their home. When an issue arises, it's necessary to find mechanical repair services that won't miss a step. 
Choose a Mechanical Repair Shop You Can Trust
Your machines keep your industry going so it makes sense to choose a mechanical repair shop that understands the importance of your machines. Wyler Industrial has been serving El Paso's industrial sector for well over 100 years. We have the experience necessary to tend to any mechanical issue, no matter its severity. We have always held on to the belief that every job must be a job well done. It's our goal to make you proud of choosing us as your repair shop and we will not rest until you are satisfied. Put your trust in the hands of Wyler Industrial. We're here for you!