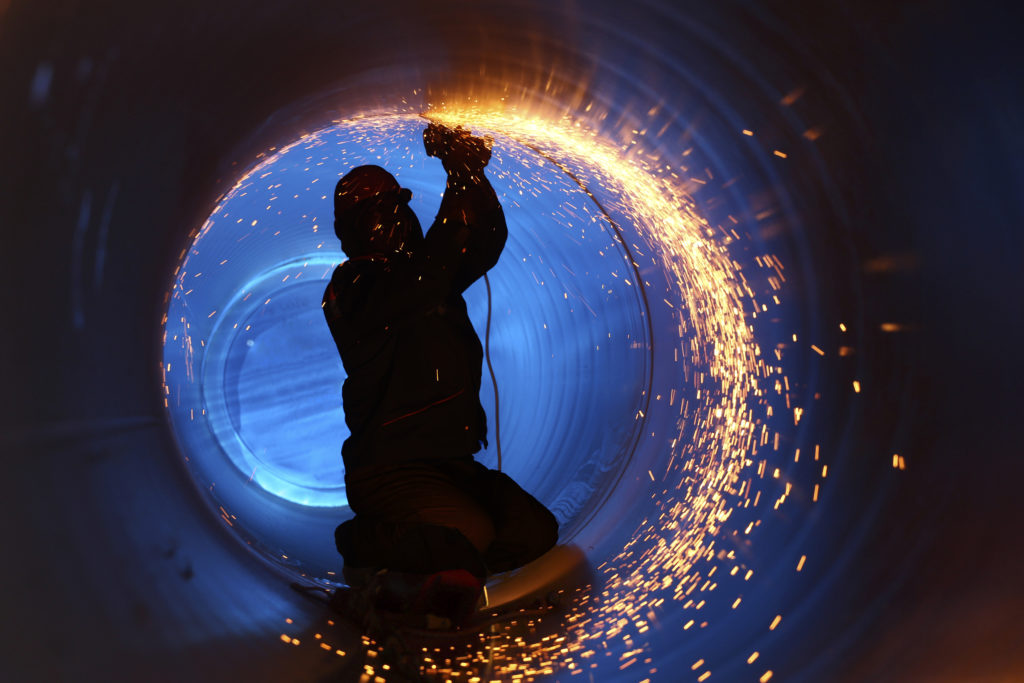 Working with metal is a craft in its own right. Oh, all the things metal will build! Since the dawn of time man has used the elements at his disposal to construct the world around him. And who would have thought, one hundred years ago, how metal would impact our lives on a daily basis. The history of welding goes back to the early 20th century and is today an effective method of fusing metal. One can trace the origins of the practice way back to the Bronze Age but the advancements and proficiency with which it is used today are entirely different. Here at Wyler Industrial, we offer welding services and know the importance of a job well done. An entire structure or infrastructure can depend on welding and this is a big responsibility we take very seriously. 
So when did it begin?
Well, no one can pinpoint the precise place in time where welding was born, but there is evidence of it as early as the ancient Egyptians, who may have learned how to weld iron together. After that, it was really various people and inventors throughout the following centuries that contributed, in their own way, to the advancement of the technique. 
During the 1800s, several advancements were made in countries like England. Edmund Davy of England is credited with the discovery of acetylene in 1836. The electric generator was invented in the 1900s, which gave way to some new technology to help the technique of welding. Around this time, Arc welding with the carbon arc and metal arc was developed and resistance welding became a practical joining process. Still, in the early 20th century, Stoghmenger introduced a coated metal electrode in Great Britain, and another engineer in Sweden invented a covered or coated electrode during the period of 1907 to 1914, as resistance welding techniques were also developed. 
The techniques since then have greatly improved and today we have things like robotic welding. This method uses computers to weld certain projects more effectively and precisely. This method is also incredibly safe and keeps workers out of hazardous situations. 
Important Industries Where Welding Is Used
How might the world be different if it weren't for welding techniques? You might not see sturdy metal bridges, airplanes, or military tanks. There might be no room for large ships or cruise boats. So much of this is a result of the welding process that we thought we'd take a look at a few common industries where welding plays a key role. 
Aerospace
Remember that vacation you took last year with the family? It likely wouldn't have been possible if it wasn't for welding. This is because most commercial, military, and cargo aircraft use some kind of welding. So imagine the tremendous impact that aircraft has had on modern life and modern warfare. Without it, the world would look pretty different. During World War II, especially, the power of aircraft was truly tested, and welders and mechanics showed their grit and talent by repairing aircraft that would get damaged during routine flights and need to be ready again by the next day. Warfare today and many unmanned aircraft use welding to a similar degree and it is through the outstanding engineering and design that our planes have become as proficient as they are in their given task. 
Trains
The railroad industry was a key part of his country's history. It was, after all, after railroads started being installed in major cities and through towns, that trade and commerce within the United States really increased. Railroads and trains are, of course, large made and produced with metal. Joining hundreds and hundreds of rail miles necessitated a lot of professional welding. America's first diesel streamline train was made by the same firm that came up with shot welding. 
Automotive Industry
Cars are just another way that welding is used on a regular basis. There are currently about 279.1 million registered vehicles in the United States. That's a whole lot of automobiles! And every one of those cars had to go through the assembly line and probably be subject to some kind of welding. 
Construction
Building anything this day and age will likely take some kind of welding to get the structure secure and the foundation set. In the construction industry, it is mostly steel that is used. A large percentage of the steel produced in the world is used for the construction industry.
Shipping
Let us not forget our friend out at sea. Of course, ships, including many military naval ships, require a lot of welding in order to produce strong and robust ships. 
Get Reliable Welding and Metal Services with Wyler Industrial
If you have any kind of industrial work area, you want to ensure that your facility and infrastructure is secure and well-made. That's where we come in. Here at Wyler Industrial, we provide top-quality welding services for your business. Give us a call today.